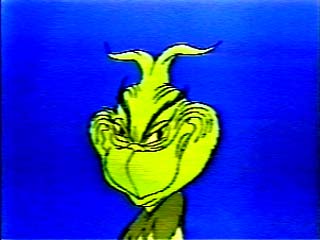 What foul creature could be on the loose?
Was it a mischievous geisel or a sinister seuss?

When I'm reading Dr. Seuss
It gives me the bumps of goose.
From his pages each word jumps
And covers me with big goose bumps.

So you see I must confess
I enjoy his silliness.
Reading Seuss, if you've tried
Brings out the child you hide inside.


Although not written by Dr. Seuss himself, these are works in which I tried to depict his style and believe this is what he would have written had his writing continued. If, like me, you feel there should be more Dr. Seuss books and that someone should carry on his work, I hope this site will provide you with some Seuss style entertainment.
The sole intent of this web site is to draw the attention of Dr. Seuss Enterprises, Audrey Geisel and Random House Publishing. As I have no other means of contacting them I thought I'd set up a situation where they could contact me.
There is no intent to infringe upon the intellect property of Dr. Seuss.
I believe that the aura and works of Dr. Seuss should carry on. The world needs more Seuss. I would like the opportunity to supply it.
My thoughts are inundated with Seussisms which need to be expressed. I don't know where these ideas come from but they are there.
Some stories I write could be published on their own but what I would really like to do is write the sequel to How The Grinch Stole Christmas. I can't do that without approval. I have a wonderful story line and title, How The Grinch SAVED Christmas.
Basically I'm hoping to be contacted to discuss this further and not be slapped with a lawsuit.
On this site are some varied samples of my writings which are being constantly updated as I am working on about twenty projects at the same time. They are being put together piece by piece and hopefully will all be finished eventually. No illustrations as of yet.

Cal Maerz
email:
ynstyn@yahoo.com

Visitors Since 02\27\2001



FOOTNOTE:

As with most children's books, illustrations are a major part of holding their interest. I'm not a very good artist but, if you have any pictures or if you can draw, I would appreciate it if you would send me some drawings to use on this site to make it a better one. I especially need pictures of Snoodles, Weezles, Gnomes, Narmes, Zoids, a Snarfle-arfle-arfellous and other miscellanious characters.
I also welcome comments and suggestions. THX

Cal Maerz ynstyn@yahoo.com